Hong Kong protesters hold firm on Wednesday deadline for China
By Ashley Fantz, Jethro Mullen and Holly Yan, CNN
Hong Kong (CNN) -- It's Wednesday in Hong Kong, and pro-democracy protests there are expected to grow because many people are off work for China's National Day.
The day also brings a deadline that demonstrators have set for the Chinese government to meet their demands to let Hong Kong residents elect their own leader. It looks unlikely China will bend, so it's unclear what will happen next.
For a week, Hong Kong residents have said that they want more freedom and won't back down until they get it. They were supposed to be able to freely elect their next chief executive in 2017. That was considered momentous in Hong Kong because its current chief executive isn't elected by the people but by a 1,200-strong committee stacked with Beijing loyalists.
Last month, China announced that it would allow only Beijing-vetted candidates to participate in the 2017 election, sparking widespread anger.
"Both sides in this dispute appear to be digging in their heels and unwilling to find a compromise," said CNN's Ivan Watson, who stood amidst the tens of thousands on the street late Tuesday and Wednesday morning.
Hong Kong and Chinese officials have called the protests illegal.
Protesters continue to rally outside the Hong Kong Government Complex on Tuesday, September 30, 2014. Hong Kong Chief Executive C.Y. Leung urged protesters to clear the roads Tuesday, saying they might pose a risk to public safety. (Photo: Anthony Kwan/Getty Images)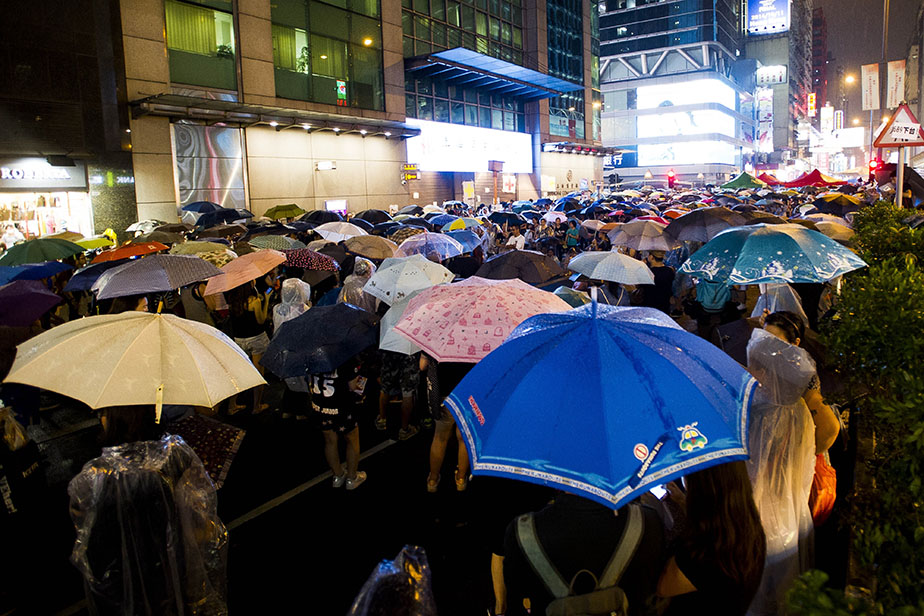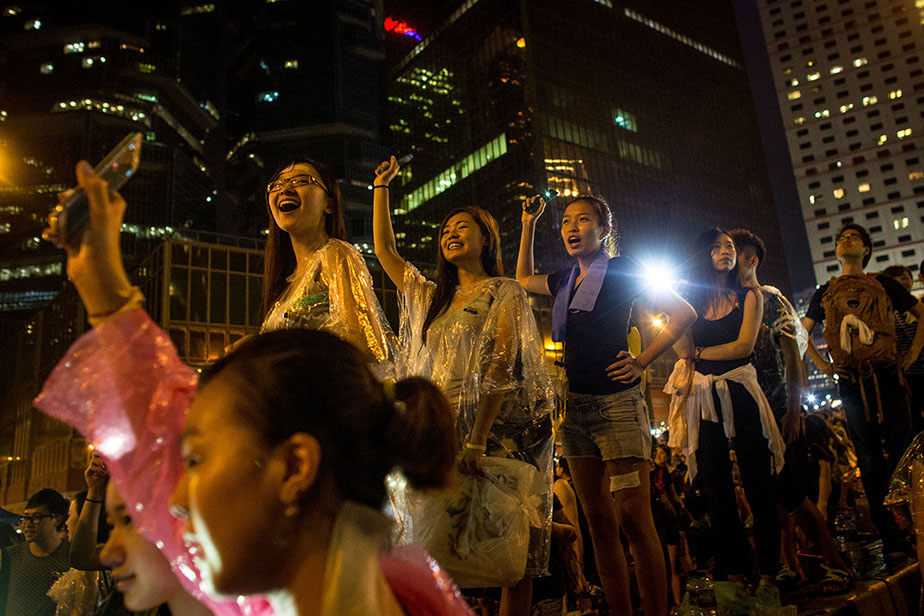 People attend a speech despite rainy weather in the Mong Kok district of Hong Kong Tuesday night. At right, protesters sing and wave their cell phones after the inclement weather passes. (Photos, from left: Xaume Olleros/AFP/Getty Images and Chris McGrath/Getty Images)
After huge crowds dispersed overnight, hundreds of protesters slept on Hong Kong's main thoroughfare to guard against police moving in to clear the site. Over loud speakers, protesters were urged to stay until 8 a.m. local time Tuesday morning when more demonstrators would join them. (Photo: Wong Maye-E/AP)
What started as a protest by pro-democracy students escalated into a paralyzing demonstration after riot police tried to clear the streets using tear gas, batons and pepper spray over the weekend. (Photo: Vincent Yu/AP)
Hong Kong protests: In the thick of it
Cập nhật ngày 30/9/2012
Hàng chục ngàn người biểu t́nh vẫn c̣n trên các đường phố của Hồng Kông, không động ḷng thương xót trong yêu cầu của họ đối với nền dân chủ. Những người biểu t́nh cắm trại đeo mặt nạ, kính bảo vệ và áo mưa nhựa - bất cứ thứ ǵ để bảo vệ chống lại lựu đạn cay mà cảnh sát bắn ra ngày trước đó. Ở Trung cộng bây giờ là ngày 01 tháng Mười, ngày lễ nghỉ toàn quốc, và nhiều người tại Hồng Kông nói với CNN họ có kế hoạch tận dụng thời gian để tham gia các cuộc biểu t́nh.

T́nh trạng bất ổn do sinh viên điều động đă gây ra bởi sự ngoan cố của Trung cộng rằng việc chỉ định các ứng cử viên cho một cuộc bầu cử năm 2017 tại Hồng Kông - mặc dù cư dân Hồng Kông đă được hứa hẹn rằng họ sẽ có thể tự do bầu ra các nhà lănh đạo của họ.

Hồng Kông được gọi là "thành phố quốc tế," Ông Chan Kin- người biểu t́nh nói với nhóm phóng viên CNN tại Hồng Kông rằng một "thế hệ trẻ" đă "được dạy về quyền công dân, quyền chính trị. Và chúng tôi muốn tiếng nói của chúng tôi phải được lắng nghe."

Cuộc biểu t́nh đánh dấu cuộc xuống đường lớn nhất tại Hồng Kông kể từ khi nó người Anh bàn giao lănh thổ về tay Trung cộng vào năm 1997.